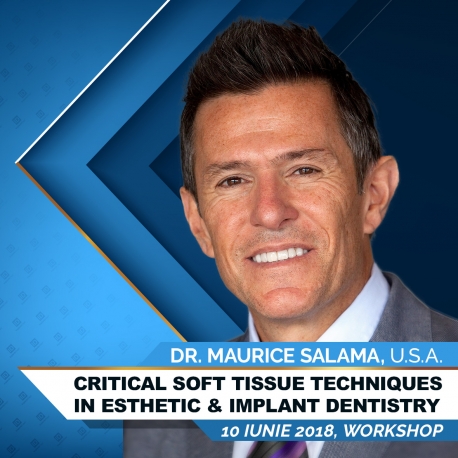 Mareste
Duminică, 10 Iunie 2018
Hotel Alpin, Poiana Brașov
Workshop
alături de
Dr. Maurice Salama (U.S.A.)
ATENȚIE! Ultimele locuri disponibile!
Data disponibilitatii:
SHORT DESCRIPTION
Dental health and esthetics is dependent on specifically defined relationships between the soft tissue, the teeth or implants, and the underlying osseous scaffold. A critical soft tissue dimension is required for long-term predictable support of the gingival margin, crestal bone and restorative esthetics.
Part and parcel of a through dental evaluation today is to determine that gingival phenotype of the individual. Thickness of the gingiva, zone of attached tissue and tissue color all play important roles in developing the long-term health and esthetics in dental treatment of any kind. In addition, the exact determination of the location of the underlying bone acts as a prognostic indicator of future soft tissue levels.
This course will highlight the 3 most utilized soft tissue procedures in clinical practice, the free gingival graft FGG, ridge augmentation for pontic sites and minimally invasive root coverage procedures for CTG "tunnel/VISTA approaches".
It will teach
IN DETAIL
and simplify the process of site evaluation, critical anatomy, flap management and minimally invasive armamentarium.
Soft tissue grafting techniques, new regenerative materials and bioactivators will be highlighted. The expanding role of allograft materials (Alloderm, Dermis, Oraderm) and when to utilize them will be suggested. The ability of these combined protocols to alter the soft tissue profile around natural teeth, implants, edentulous ridges, as well as to support facial soft tissue structures will be reviewed as to its critical role in "Complete Esthetics".
This hands-on portion of the course will be performed on fresh frozen pig specimens and will highlight in detail and simplify the process of autologous harvest techniques, critical anatomy, flap design, microsurgical armamentarium and critical suturing materials/methods.
LEARNING OBJECTIVES
To learn basic surgical anatomy and incision techniques in soft tissue surgery
To apply three commonly used soft tissue grafting techniques in clinical practice
To learn modified suturing methods to secure flaps and grafts
HANDS-ON TECHNIQUES TO BE COVERED IN DETAIL
Ridge Augmentation for pontic and implant sites
Roll techniques
Inlay pouch technique
Onlay technique
Root coverage procedures
Connective tissue grafts - CTG
Free Gingival tissue grafts - FGG
Semi-lunar grafts
Tunnel techniques
VISTA
PROGRAM
08:30 - 09:00 Registration
09:00 - 10:00 Diagnosis and Treatment Planning for Soft Tissue Grafting
10:00 - 11:30 Tissue Wound Healing and Biology
11:30 - 13:00 The Keys to successful Soft Tissue augmentation
13:00 - 13:30 Lunch
13:30 - 14:30 Harvest sites for FGG, CTG and Ridge Augmentation
14:30 - 16:00 FGG, CTG, Tunnel & Vestibular Graft Approaches
16:00 - 16:30 Suture techniques and materials
16:30 - 17:00 Final discussion, Q&A
SPEAKER
Dr. Maurice A. Salama completed his undergraduate studies at the State University of New York at Binghamton in 1985, where he received his BS in Biology. Dr. Salama received his DMD from the University of Pennsylvania School of Dental Medicine, where he later received his dual specialty certification in Orthodontics and Periodontics, as well as his implant training at the Branemark Center at Penn.

Dr. Salama is currently on the faculty of the Medical College of Georgia as Clinical Assistant Professor of Periodontics. Dr. Salama is a permanent member of the Scientific Committee of the world's leading online Dental Education Website DENTALXP.com

He is also a member of the Team Atlanta Dental Practice which is a multidisciplinary practice world renowned for their clinical research in reconstructive and esthetic dentistry.
INFORMAȚII ȘI ÎNSCRIERE
Limbă: Engleză
Numărul maxim de participanți: 25
Locația: Hotel Alpin, Poiana Brașov
Event Manager:

Denisa Robe

- 0721.256.652
Email: events@

implanto

days

.ro
IMPORTANT

În situații excepționale, ImplantoDays, în calitate de Organizator, își rezervă dreptul de a modifica data și locația prezentului eveniment.