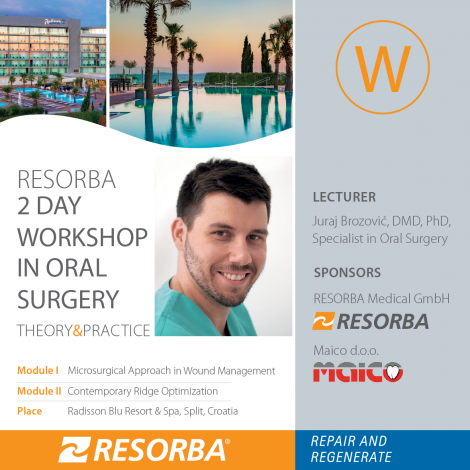 Mareste
Module I - Microsurgical Approach in Wound Management
Module II - Microsurgical Approach in Wound



14-17 aprilie 2022 sau 12-15 mai 2022
Radisson Blu Resort&Spa, Split/Croația
Workshop

susținut
de
Dr. Juraj Brozovic (Croația)
30 loc disponibil locuri disponibile
din total de 30
ATENȚIE! Ultimele locuri disponibile!
Data disponibilitatii:
WORKSHOP DESCRIPTION

"Contemporary Grafting Basics" is designed as a two-day intensive hands-on course on defect repairs.
In the first module,
Microsurgical Approach in Wound Management
, wound healing biology is discussed, with a thorough insight into suturing materials followed by step-by-step guidance through conventional and microsurgical suturing techniques.
The second module,
Contemporary Ridge Optimization
, provides participants with clinical and scientific background on ridge defects, altogether with understanding of different grafting procedures deemed predictable for an in-office use. Detailed surgical steps of Guided Bone Regeneration (GBR) are demonstrated, followed by participants carrying out the procedure to regenerate a contained defect and achieve soft tissue closure by microsurgical means.
PROGRAM

Day 1:
Individual arrival to Split and transfer to hotel

19.00
– Welcome aperitif at hotel
Day 2: 09:00 – 11:00
THEORETICAL
• Understanding Wound Repair
• Everything You Need to Know About Sutures
• Why and When to Go Micro?
• How to Manage a Bleeding Patient?
11:00 – 15:00 HANDS-ON
• Master Basic Suturing Techniques
• Switch to Microsurgical Approach
19:00 –
Day 3: 09:00 – 11:00 THEORETICAL
• Understanding Ridge Defects
• Why Would Grafting Work?
• Whens, Whys, and Hows in Guided Bone Regeneration
• From Ridge "Reservation" to Defect Repairs
11:00 – 15:00 HANDS-ON
• Master Flap Design and Soft Tissue Management in Minor Grafts
• Stabilize and Regenerate a Contained Defect
• Apply Microsurgical Knowledge for Success
19:00 - free night, discover Split
Day 4:
individual departure
SPEAKER
Juraj Brozović - PhD, DMD, Specialist in Oral Surgery

Graduated out of Zagreb School of Dental Medicine first and top of class with3 Dean's awards
PhD: Innovation in dental implant biomechanics research (Dental Materials)
Specialist in Oral Surgery at private dental office in Split
Research associate of Zagreb School of Dental Medicine
Part-time associate of Split School of Medicine
Author of scientific and clinical papers in internationally recognized journals
International lecturer on advanced oralgrafting procedures and implant dentistry
Resorba's global opinion leader & Lecturer
Member of Croatian Society for Oral Surgery, Executive Board, Croatian Society for Dental Implantology & Croatian Medical Association
Multiple national and international Award
INFORMATION & REGISTRATION
Language: English

Location: Radisson Blu Resort & Spa, Split // Croatia

INCLUDING




• 2 day course with hands-on




• 3 overnights




• Common dinner on day 2


• Sterile product samples to take home (value € 500)
Event Manager:

Denisa Robe

- 0721.256.652
Email: events@

implanto

days

.ro
IMPORTANT
ImplantoDays will be responsible only for registration of the participants (including
cost of the course).
Transport and transfers are not included in the fee.
IMPORTANT:
În situații excepționale (de ex: pandemie COVID-19), ImplantoDays, în calitate de Organizator, își rezervă dreptul de a modifica data sau alte detalii ale evenimentului în funcție de restricțiile existente. Mulțumim anticipat pentru înțelegere.