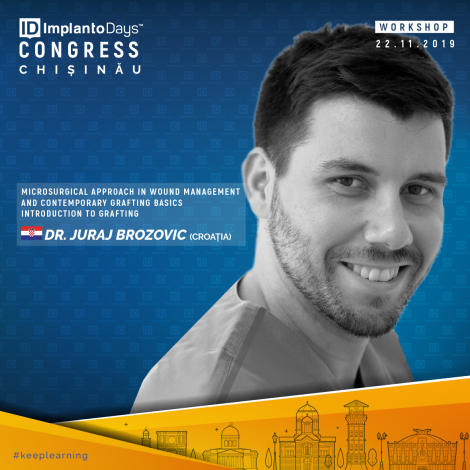 Mareste
22

noiembrie 2019

Hotel Radisson Blu Leogrand, Chișinău

TEORIE / HANDS-ON, curs susținut de

Dr. Juraj BROZOVIC (Croația)
16 loc disponibil locuri disponibile
din total de 20
ATENTIE: Ultimele bucati in stoc!
Data disponibilitatii:
Full-day intensive hands-on course divided into two levels. In the First Level (A1), wound healing basics are thoroughly discussed, followed by the presentation of surgical and microsurgical suturing basics and hands-on of sutures later to be used for graft-flap closure. The Second Level (A2) presents reaches and shortcomings of different grafting procedures predictable for an in-office use, as well as an in-depth review of guided bone regeneration (GBR) procedure. In the hands-on part of this level participants will be guided through mandatory surgical steps in GBR, paying attention to soft tissue management and micro-suturing. All the procedures will be carried out on porcine models (ears and jaws).
Level A1: Wound closure basics
Theoretical Part - answers the following questions:
✓What is the science behind suturing materials?
✓How to read suture packs?
✓How to choose threads and needles?
✓Why and when to go "micro"?
Practical Part:
✓Basic sutures demonstration
✓Guided suturing on porcine ear with standard and microsurgical sutures
Level A2: Grafting basics
Theoretical Part - answers the following questions:
✓What happens with alveolar bone after tooth extraction?
✓Why would grafting work?
✓How to pick a "bone" and a "membrane"?
✓What procedures are predictable enough for an in-office use?
✓When, why and how to use GBR?
✓What is necessary for performing a simple regeneration procedure?
✓When to expect complications and how to manage them?
Practical Part:
✓Guided bone regeneration (GBR) demonstration
✓Flap design and elevation in porcine jaw
✓Soft tissue management
✓Composite graft mixture
✓GBR in a contained ridge defect
✓Microsurgical closure
PROGRAM
08:30 - 09:00 Registration of participants
09:00 - 10:30 Theoretical Part (A1)
10:30 - 11:00 Coffee break
11:00 - 13:00 Practical Part (A1)
13:00 - 14:00 Lunch
14:00 - 15:30 Theoretical Part (A2)
15:30 - 16:00 Coffee break
16:00 - 18:00 Practical Part (A2)

RATES
EarlyDays: 129 Euro (until September 22)
SmartDays: 179 Euro (September 23 to October 20)
LateDays: 229 Euro (October 21 to November 21)
Number of participants: 20.

SPEAKER
Dr. Juraj BROZOVIC (Croatia)
✓Specialist in Oral Surgery at private dental office – awarded "prim.dr. Vladimir Mikolji award" during residency in Oral Surgery at University Hospital Center Zagreb
✓Research associate of Zagreb School of Dental Medicine & Part-time associate of Split School of Medicine
✓Author of scientific and clinical papers in internationally recognized journals
✓International lecturer on advanced oral grafting procedures and implant dentistry
✓Resorba's global opinion leader and demonstrator
✓Author of continuous education course series "Grafting procedures", covering hard and soft tissue grafting
✓Member of Croatian Society for Oral Surgery Executive Board, Croatian Society for Dental Implantology and Croatian Medical Association
INFORMATION & REGISTRATION
Language: English
Location: Hotel Radisson Blu Leogrand, Chișinău
Event Manager: Denisa Robe - 0721.256.652
Email: events@implantodays.

--- Anunț pentru participanții din Republica Moldova ---
Comenzile de participare la congresul ImplantoDays 2019 - Chișinău, vor fi onorate de echipa Gursk Medica Moldova.
Telefon: +373 2279 94 94
Email: office@gurskmedica.md
IMPORTANT
În situații excepționale, ImplantoDays, în calitate de Organizator, își rezervă dreptul de a modifica data și locația prezentului eveniment.