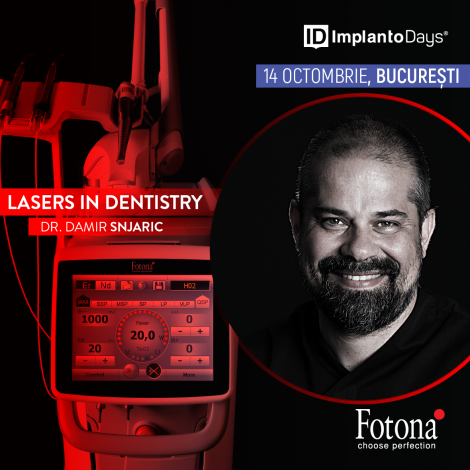 Mareste
Friday, 14 October 2022

Bucharest, Romania, during the DENTA exhibition
Speaker: Dr Damir Snjaric - Croatia
Numai online
20221114
Produs nou
20 loc disponibil locuri disponibile
din total de 20
ATENȚIE! Ultimele locuri disponibile!
Data disponibilitatii:
Short description:
The workshop covers and demonstrates basic principles of laser-tissue interaction, security and maintenance issues.
Lasers in dentistry - introduction
Applications of Dental Lasers - Discover the Game Changer in Dentistry
Participants will be trained to perform most common laser assisted dental interventions on soft as well as hard tissues using Fotona Lightwalker AT-S dual dental laser device (Er:YAG and Nd:YAG laser) on the animal jaw model.
The workshop will adres incision, ablation, disinfection and biostimulation procedures applicable in different disciplines of dentistry.
Beyond dentistry applications - PBM, Nightlase, Facial aesthetic.
Benefits of modern laser dentistry vs. classical approach
Implementation of laser in dental practice - business wise.
Questions/debate
Program: 10:30 – 13:30
Language: English
Location: Ramada Plaza, Bucuresti, Sala Asia
Seats limited: 20
Event Manager: Denisa Robe - 0721. 256.652
Email: events@implantodays.ro
Price:
59 euro (pana la 10 Octombrie )
79 euro – (tarif valabil in perioada 11 octombrie – 14 octombrie)
Short Bio:
Dr. Damir Šnjarić graduated in 1999 from the University of Rijeka, Medical faculty, School of Dental Medicine, where he became an assistant at the Department of Dental Pathology. He attended post-graduation studies at the University of Zagreb, Faculty of Dentistry, where he received his Master of Science (MSc) degree in 2005. Since 2007 he works in a private dental practice and in 2012, he received a Doctor of Philosophy (PhD) degree from the University of Rijeka, with his dissertation in the field of endodontic irrigation. Since 2014 he has also worked as postdoctoral researcher and assistant at his alma mater's School of Dental Medicine in the Department of Restorative Dentistry and Endodontics. In 2020, he finished a three-year program of specialisation in the Clinical-hospital center in Zagreb and became a Specialist of endodontics and restorative dentistry.

In 2022, dr. Šnjarić became an Assistant Professor at the University of Rijeka, Faculty of Dental Medicine, Department of Endodontics and Restorative Dentistry. He is also an invited lecturer at the University of Zagreb, Faculty of Dentistry. Dr. Šnjarić is a member of various dental societies, including the Croatian Dental Chamber, the Croatian Society of Endodontology, the European Society of Endodontology, and the Laser and Health Academy. Dr. Damir Šnjarić uses advanced endodontic and restorative methodes, materials and devices, dental lasers, operating microscope and loupes on a daily basis in his clinical practice and promotes rotary endodontics, endodontic microsurgery, esthetic dentistry, bioceramic materials and laser-assisted dentistry (Er:YAG, Nd:YAG and diode lasers), as an international lecturer and trainer, holding courses, lectures and workshops.

He is regional consultant and international Key Expert of the Kavo-Kerr company, as well as Expert Clinical Trainer and Faculty Expert at the Laser and Health Academy, founded by Fotona, world's leading manufacturer of dental lasers. In 2020, he founded Zubaria, the company for consulting and education in dentistry.