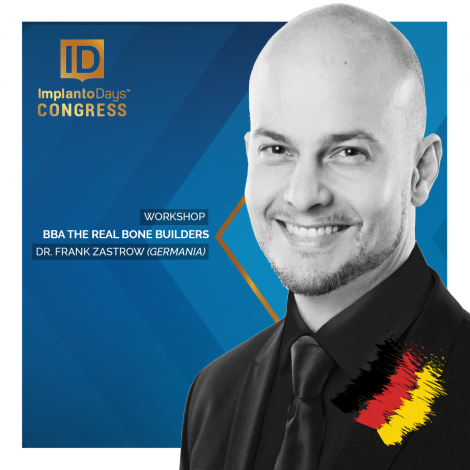 Mareste
Duminică, 16 Iunie 2019

Hotel Alpin, Poiana Brașov



Workshop
alături de
Dr. Frank Zastrow (Germania)
0 loc disponibil locuri disponibile
Acest produs nu mai este in stoc
ATENȚIE! Ultimele locuri disponibile!
Data disponibilitatii:
DESCRIERE
In many cases bone augmentation is necessary before implants can be inserted. Additionally, the soft tissue management can be a decisive factor for the implant success.
In all cases the "Goldstandard" of using autologous bone is in competition with the use of Bone Graft Material products.
This course with hands on workshop is addressed to all clinicians, who have already own experience in augmentation and want to learn safe and predictable bone harvesting and augmentation techniques for different clinical situations. Clear guidelines for the use of augmentative procedures like autogenous bone grafting and advanced soft tissue management in order to achieve predicable results will be provided by the oral surgeon Dr. Frank Zastrow. In the `Simulation` session relevant bone harvesting and augmentation techniques will be simulated and trained on synthetic models.
TARIFE
EarlyDays: 449 Euro (tarif valabil în perioada 13 Martie 2019 – 14 Aprilie 2019)
SmartDays: 499 Euro (tarif valabil în perioada 15 Aprilie – 12 Mai )
LateDays: 599 Euro (tarif valabil în perioada 13 Mai – 12 Iunie )
Numărul maxim de participanți: 25
SPEAKER
Dr. Frank Zastrow (Germania)

Dr. Frank Zastrow is an experienced oral surgeon and former senior physician at Professor Dr. Fouad Khoury, clinic Schloss Schellenstein in Olsberg, Germany. Now he leads his own private clinic in Wiesloch, Germany. His focus is the bone and soft tissue reconstruction in complex and compromised cases. For this topic he is also an international speaker (www.frankzastrow.com) and founder of the facebook group `Real Bone Builders` -a platform for Biological Bone Augmentation, which focusses on working with pure autogenous bone and tissues.
After he finished the dental school in University of Heidelberg, Germany, he became research associate at the oral surgery and maxillofacial surgery center of the University of Heidelberg (medical director: Prof. Dr. J. Mühling). 2008 he got licensed for dentistry and oral surgery, doctorate from University of Heidelberg. 2009-2012 he practiced as oral surgeon at the private clinic Schloss Schellenstein, Olsberg, Germany (medical director: Prof. Dr. F. Khoury) and from 2011 he was Senior Physician at the private clinic Schloss Schellenstein. 2011 he licensed to `Master M.Sc. Implantology and Dental Surgery in the University of Münster, Germany.
INFORMAȚII SI ÎNSCRIERI
Limba: engleză
Locația:

Hotel Alpin, Poiana Brașov



Event Manager: Denisa Robe - 0721.256.652
Email: events@

implanto

days.ro



IMPORTANT
În situații excepționale, ImplantoDays, în calitate de Organizator, își rezervă dreptul de a modifica data și locația prezentului eveniment.