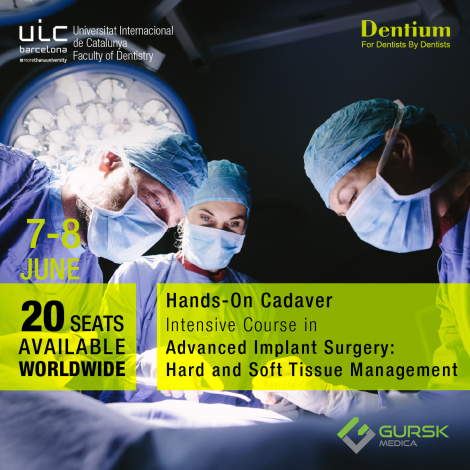 Mareste
7-8th of

June,

2019

UIC Barcelona,
Sant Cugat Campus
Hands-On Cadaver - Intensive Course
ATENTIE: Ultimele bucati in stoc!
Data disponibilitatii:
HANDS-ON INTENSIVE COURSE IN ADVANCED IMPLANT SURGERY

There is a high demand for specialized training in the field of advanced implantology. And in this connection, it's a real opportunity to perform complex surgical techniques on human cadavers because the key is to enhance your knowledge and skills by the comprehension of every technique from a scientific, theoretical and practical point of view.
OBJECTIVES

Review in a systematic way, every complex surgical technique in advanced implantology
To provide dentists and maxillofacial surgeons an appropriate diagnostic and therapeutic tools to solve complex cases in reconstructive preprosthetic surgery
By the end of this course participants will understand every advanced technique in bone and sof tissue regeneration/reconstruction and pre-prosthetic surgery as well as immediate implant and implant butresses placement
COURSE TOPICS
Autologous Bone Block Grafts (onlay and inlay)
Guided Bone Regeneration (vertical and horizontal)
Alveolar Crestal Split technique for horizontal augmentation
Maxillary Sinus lifting and grafting (lateral and crestal approach)
Immediate Implant Placement
Placement of Tilted Implants to avoid anatomic structures – Pterygoid Implants and buttresses
Soft Tissue Management in Implantology (flap managment and grafting techniques)
TARGET
Dentists, oral surgeons and oral and maxillofacial surgeons
DIRECTION AND COORDINATION
Director: Dr Federico Hernández-Alfaro
Coordinator: Dr Marc Quevedo
Academic Board:

Dr Pablo Altuna
Sandra Barrio
Albert Barroso
Jorge Bertos
Basel Elnayef
Susana García
Federico Hernández-Alfaro
Octavi Ortiz
Marc Quevedo
Daniel de Ribot
Juan Zanón
PROGRAM
07.06.2019 (09:00 - 20:00)

Welcome and course presentation
Incisions, flap design and piezoelectric surgery principles
Practice (human cadaver models)
Biologic principles of bone grafts in oral implantology
Coffee break
Autologous bone block graft. Clinical applications, harvesting areas and techniques. Inlay and Onlay
Practice (human cadaver models)
Lunch
Bone augmentation through Guided Bone Regeneration (G.B.R.) technique. Techniques based on types of bone materials and types of membranes and meshes
Horizontal GBR
Practice (human cadaver models)
Coffee break
Vertical GBR
Practice (human cadaver models)
"Crestal Split" technique for horizontal augmentation of the alveolar crest
Practice (human cadaver models)
08.06.2019
(

09:00 - 20:00

)
Maxillary sinus lifting and grafting technique
Practice in cadaver model
Coffee break
Soft tissue management and grafting techniques in implantology
Practice (human cadaver models)
Lunch
Implant placement in anatomical buttresses and tilted implant placement techniques to avoid anatomical structures
Practice (human cadaver models)
Coffee break
Immediate implants
Practice (human cadaver models)
Course closure and diplomas
*This course accept only 20 participants from all countries in total.
INFORMATION AND REGISTRATION
Location: UIC Barcelona, Sant Cugat Campus
Event Manager: Denisa Robe - 0721.256.652
Email: events@

implanto

days.ro
IMPORTANT
*Some program changes may occur depending on the situation.