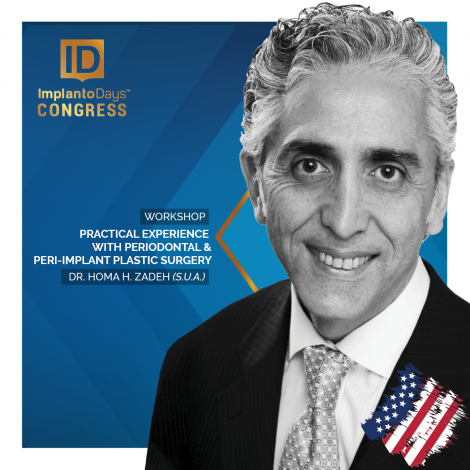 Mareste
Joi, 13 Iunie 2019

Hotel Alpin, Poiana Brașov
Hands-on
alături de Dr. Homa H. Zadeh (S.U.A)
0 loc disponibil locuri disponibile
Acest produs nu mai este in stoc
ATENȚIE! Ultimele locuri disponibile!
Data disponibilitatii:
DESCRIERE
Periodontal plastic and peri-implant plastic surgery can address gingival recession and peri-implant mucosal deficiencies that pose esthetic and functional concerns. This presentation and hands-on workshop will provide detailed protocol to achieve predictable augmentation of periodontal and peri-implant mucosal tissues. In particular, Vestibular Incision Subperiosteal Tunnel Access (VISTA) will be introduced as a highly predictable technique for periodontal and peri-implant soft tissue regeneration.
Educational Objectives:

Upon completion of this course and hands-on workshop, participants will have gained knowledge and practical experience with:
The protocol for VISTA to regenerate periodontal and peri-implant tissues
Selection of appropriate material: connective tissue (palate and tuberosity), acellular dermis allograft, collagen matrix xenograft, platelet-fibrin concentrates, growth factors
Complications: prevention and management
TARIFE
EarlyDays: 599 Euro (tarif valabil în perioada 14 Martie 2019 – 14 Aprilie 2019)
SmartDays: 649 Euro (tarif valabil în perioada 15 Aprilie 2019 – 12 Mai 2019)
LateDays: 749 Euro (tarif valabil în perioada 13 Mai 2019 – 12 Iunie 2019)
Numărul maxim de participanți: 25
SPEAKER
Dr. Homa H. Zadeh (S.U.A)

Dr. Zadeh is a tenured Associate Professor and the director of the post-doctoral periodontology program at the University of Southern California (USC), Herman Ostrow School of Dentistry and a diplomate of the American Board of Periodontology. Dr. Zadeh received his doctor of dental surgery degree from USC Ostrow School of Dentistry. He has also completed advanced clinical education in Periodontology and earned a PhD degree in immunology from the University of Connecticut, Schools of dental medicine and medicine.
Dr. Zadeh is internationally recognized for his clinical and scientific expertise. His clinical areas of interest range from esthetic and minimally invasive periodontal and implant surgery, as well as tissue engineering.
Dr. Zadeh directs the Laboratory for Immunoregulation and Tissue Engineering (LITE) at USC, dedicated to studying basic mechanisms to regulate bone and tissue regeneration/destruction under health/disease states, as well as conducting clinical trials of dental implant outcomes. He has extensive publication track, having published in peer-reviewed journals, as well as many book chapters.
Dr. Zadeh has served as the director of the USC International Periodontal and Implant Symposium for the past 16 years of its 44-year history.
Dr Zadeh served as the president of the Western Society of Periodontology in 2017. He is an active member of the American Academy of Periodontology (AAP), Academy of Osseointegration (AO), American Academy of Esthetic Dentistry (AAED) and American Association for Dental Research (AADR). Dr. Zadeh also maintains a part-time private practice limited to Periodontology in Southern California.
INFORMAȚII SI ÎNSCRIERI
Limba: engleză
Locația:

Hotel Alpin, Poiana Brașov



Event Manager: Denisa Robe - 0721.256.652
Email: events@

implanto

days.ro



IMPORTANT
În situații excepționale, ImplantoDays, în calitate de Organizator, își rezervă dreptul de a modifica data și locația prezentului eveniment.